Certification & Training
Lifeguard Certification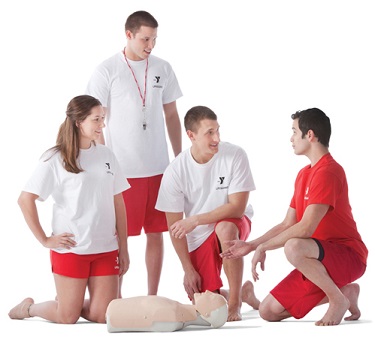 The Y will be offering an American Red Cross Lifeguarding Class. Participants must be 15 years of age on the date of the class. On the first night of class, students will be required to pass a swim test to continue the course. The registration fee will be refunded in full if the student cannot pass the qualifying swim test. There are a maximum 10 participants per class.
Class Hours
CLASS Sessions: May 21 & 22
You must attend all sessions to become certified.
Fee: Member: $200; non-member: $225.
Course Includes:
Bloodborne Pathogens, Administering Emergency Oxygen, CPR for the Professional Rescuer, and Lifeguarding.. Both written and practical skills tests must be passed to receive the certification. Prerequisite skills check on first class night will consist of, the 300 yard swim in freestyle/front crawl and breaststrokes, treading water for 2 minutes and retrieving a 10lb brick from the bottom of the pool. Contact Mary Franey at (859) 987-1395 or mfraney@parisbourbonymca.org for questions. Register online.
Lifeguard Recertification
The Y will be offering an American Red Cross Recertification class. These classes are for those people who have already earned their Lifeguard certification and just need to recertify.
Fees: Members $100; Non-members $120
Class: 6:00-9 p.m. Friday; 1:00 -6 p.m., Saturday & Sunday, TBD
Community CPR Certification
The YMCA will be offering an American Red Cross Adult, Child, and infant CPR/First Aid class for anyone in the community. This is the CPR/First Aid for communities, workplace and schools course. Contact Mary Turvey if interested. (859) 987-1395.
Contact Mary Turvey, mturvey@parisbourbonymca.org if interested. (859) 987-1395
Fee: Members $55; Non-Members; $75